Foreign languages Nagasaki Harbor Medical Center
Outpatient Consultation Hours
Outpatient consultation days:
Weekdays from Mondays to Fridays
Outpatient reception hours:
8:30 a.m. to 11 a.m. (Initial visit)
8 a.m. to 5 p.m. (Repeat visit with a reservation)
8 a.m. to 11 a.m. (Repeat visit without a reservation)
Non-consultation days:
Saturdays, Sundays, public holidays and New Year's holidays (December 29 to January 3)
*We are available for emergency patients.
Visiting Hours
General ward:
1 p.m. to 8 p.m. (Weekdays) and 11 a.m. to 8 p.m. (Saturdays, Sundays and public holidays)
NICU:
1 p.m. to 8 p.m. (Weekdays, Saturdays, Sundays and public holidays)
Intensive care ward (3F):
11 a.m. to noon, 3 p.m. to 4 p.m. and 6 p.m. to 7 p.m. (Weekdays, Saturdays, Sundays and public holidays)
Critical care ward:
3 p.m. to 4 p.m. and 6 p.m. to 7 p.m. (Weekdays, Saturdays, Sundays and public holidays)
We have staff members who can provide English interpretation available.
If you have any questions about our medical services, please feel free to contact us by telephone or e-mail.
TEL:095-822-3251 E-mail:consult@ncho.jp
Introduction to Our Hospital
Nagasaki Harbor Medical Center faces Nagasaki Port that is visited by many passenger ships. We are located in an exotic and beautiful environment surrounded by the leading tourist attractions of Nagasaki.
Our hospital has more than 400 beds and more than 30 departments.
We play a role in (1) emergency care, (2) advanced and acute care, (3) pediatric and perinatal care, and (4) tuberculosis, dialysis and disaster care as a core medical institution of the community.
We have test rooms for CT scans, MRIs and mammography in addition to an angiography room to treat myocardial infarctions, arrhythmia and other diseases on the first floor.
We have an intensive care unit, emergency room and operating room on the third floor.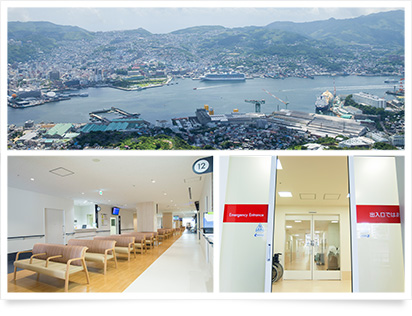 We have an obstetrics department, a pediatrics department and neonatal intensive care unit for perinatal care on the fourth floor.
In this way, our hospital functions as an acute medical institution.
In addition, doctors from the emergency department and other departments work together in the Critical Care Center on the first floor to accept patients with various symptoms – from emergency patients who require emergency surgery to those with cardiovascular diseases, gastrointestinal diseases, cranial nerve diseases and respiratory diseases as well as severely ill pediatric patients and high-risk mothers.
Many foreign tourists visit Nagasaki every year as a tourist city.
In addition to arranging English interpreters, we utilize translation tools so that patients can receive treatment smoothly to respond quickly to unexpected injuries and illnesses.
We will continue to provide safe and secure medical care in the future. At the same time, we are striving to enhance our hospital as a institution that plays a core role in medical care in the community in Nagasaki.
Introduction to Outpatient Care and Hospital Admission
First-time Patients
Please come to the General Information Desk on the 1F when visiting our hospital.
After presenting your health insurance card and referral letter (only for those who have one), please fill in the medical examination application form.
Please contact us if you have any questions.
Please pay your bill at the General Reception Desk after your examination and tests.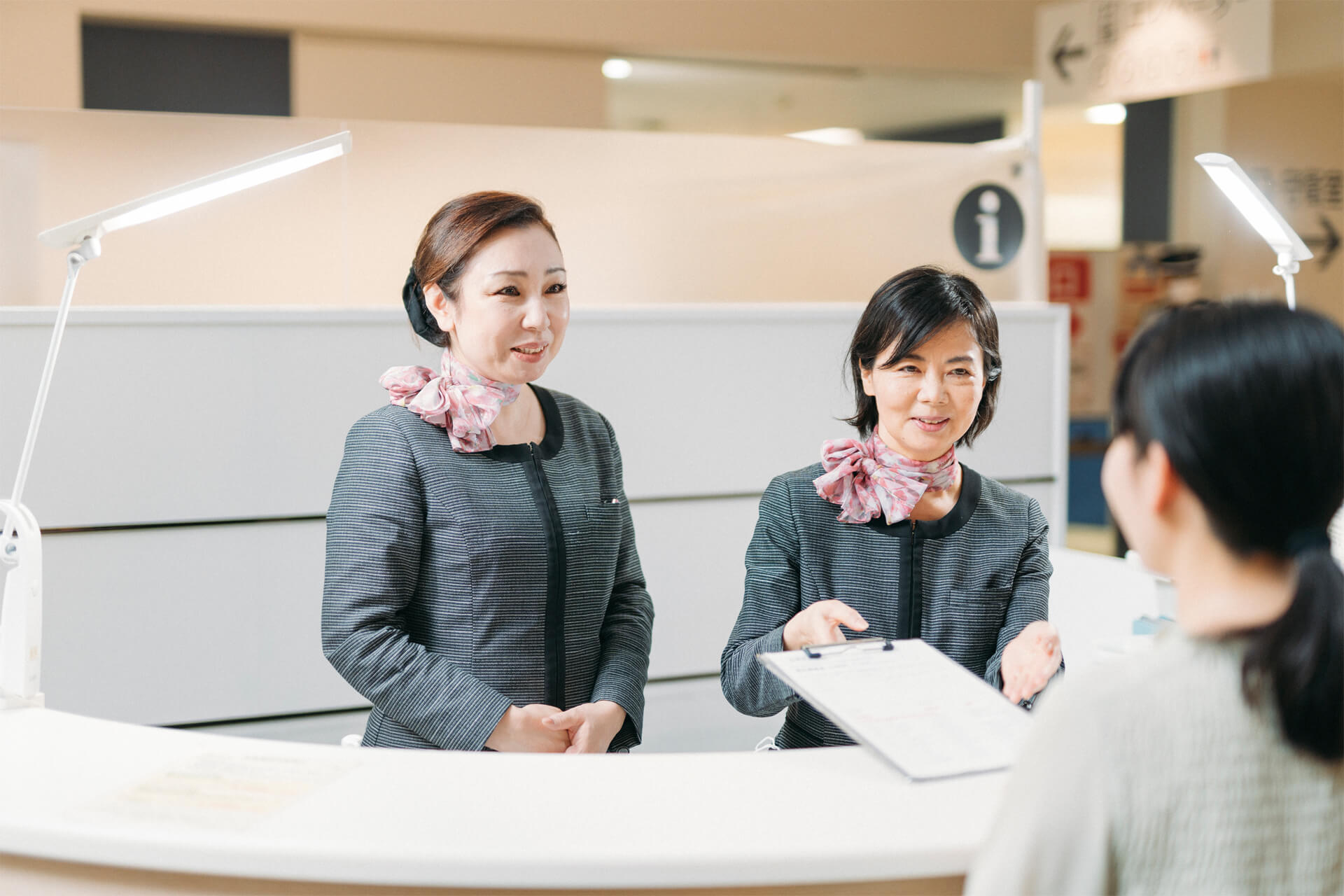 Repeat Patients
Please check in at the return reception machines on the first floor.
When you insert your registration card, you will be issued a medical examination slip.
Please put the medical examination slip in the provided clear file, head to the outpatient clinic of the department you are visiting and then give the medical examination slip to a member of the medical staff in the outpatient clinic or test room.
If you are a foreign patient, after your tests and examination, wait for a member of the medical staff and listen to an explanation of your return visit date.
After the explanation, please pay your bill at the General Reception Desk.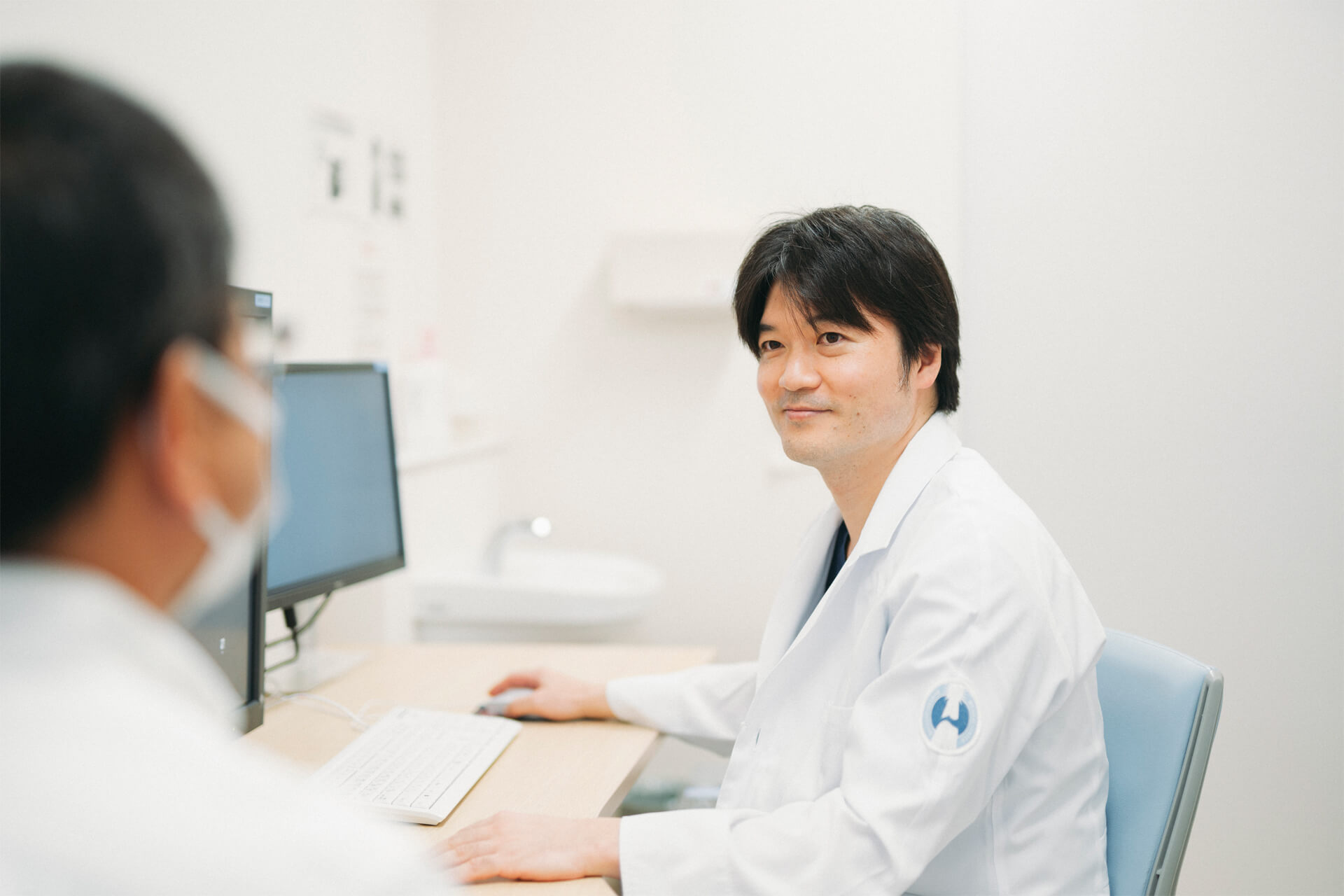 Precautions
We are a hospital that supports medical care in the community. We work closely with other medical institutions in the community to improve medical standards and to enhance medical services throughout the community.
When you visit our hospital, we recommend you consult with the doctor you see often and bring a referral letter with you as far as possible.
If you do not have a referral letter that clearly states the name of our hospital, please understand that we will charge you a 7,700-yen elective treatment fee separate to your bill on the day of your initial examination (consultation).
Introduction to Hospital Admission
We conduct tests prior to admission at our hospital so that you can receive treatment promptly after you are admitted. This allows us to shorten your period in the hospital as far as possible.
You will need to reserve time in advance so that a doctor can give you an explanation of your tests, treatment and precautions after discharge. In principle, we ask that you bring at least one other person with you for that explanation.
In particular, please ask your attending doctor about the necessity and risks of the tests until you are satisfied.
Our hospital has a General Patient Support Center (Minato Support).
Specialist nurses or healthcare professionals will talk about the related preoperative tests and explanations, explanations and arrangements at the time of your discharge, and matters relating to surgery and hospitalization before you are admitted in the General Patient Support Center.
We are a malignant disease treatment hospital that provides advanced and specialized medical care (e.g., hospital admission, surgeries and tests) of acute and critically ill patients.
Once your condition is relatively stable, your symptoms have been alleviated and we have established a future medical plan, we may introduce you to another doctor, transfer you to a doctor who you see periodically or a medical institution close to you, or ask you to recuperate at home.
Please understand that in advance.
We disclose patient medical information in accordance with our regulations.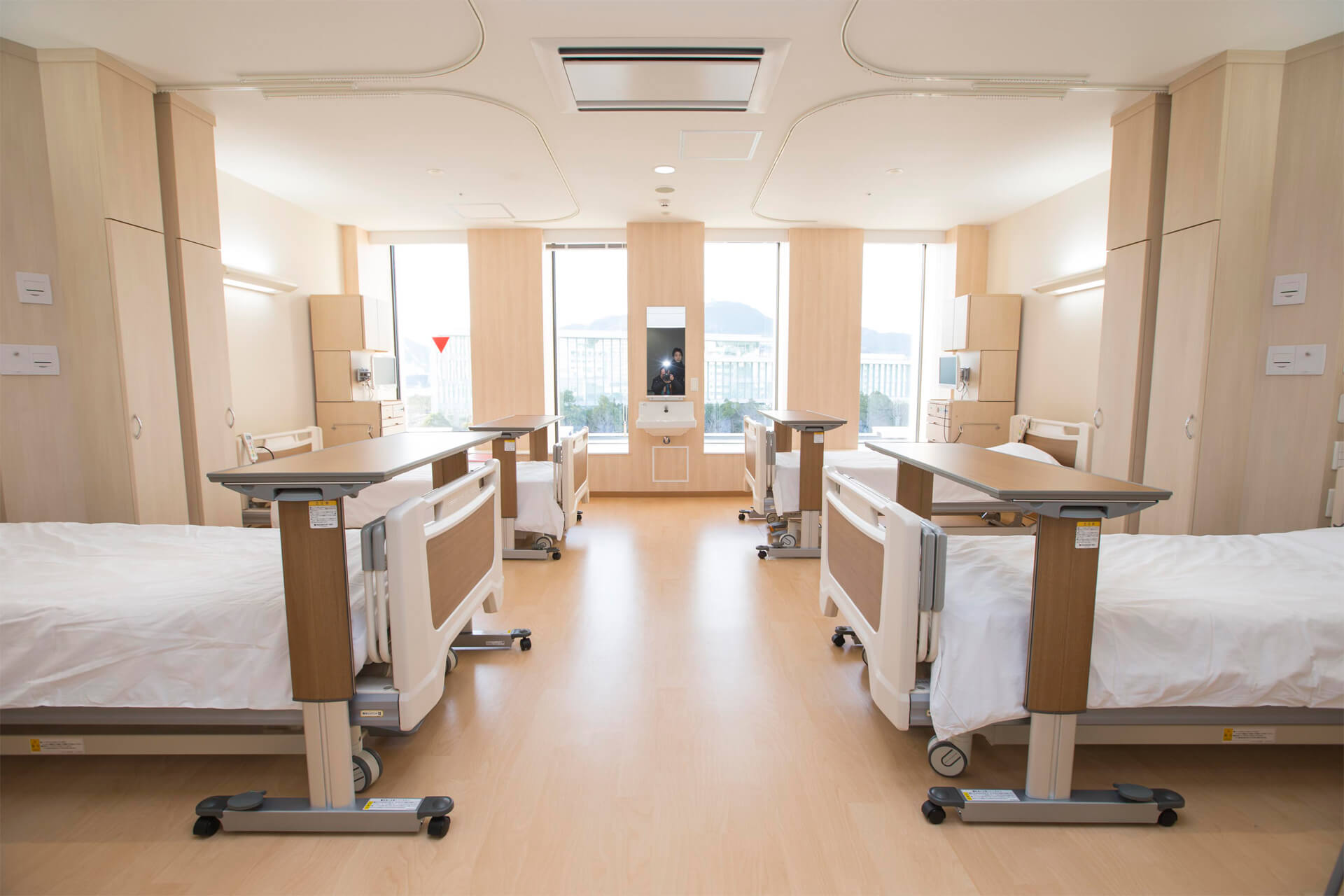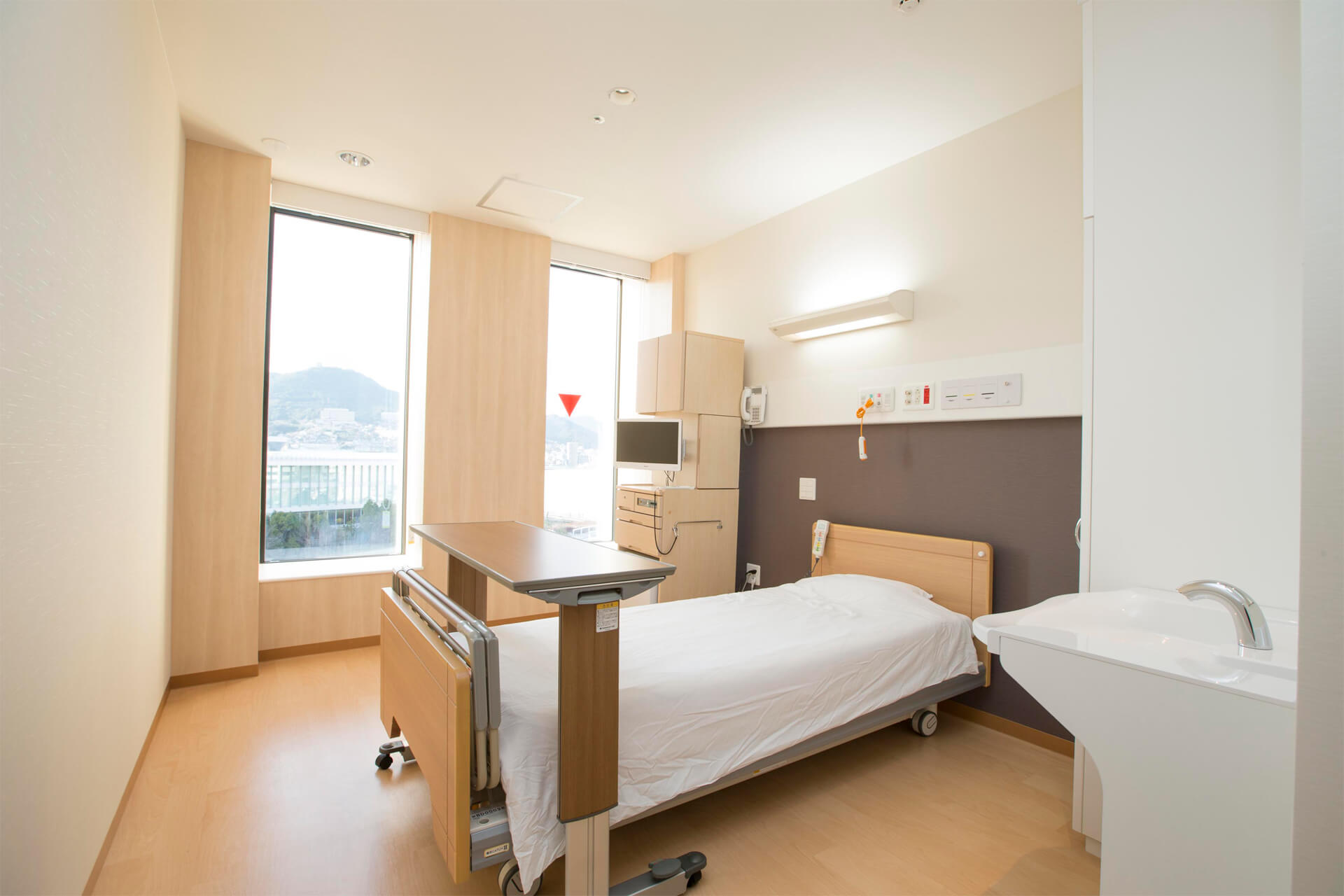 Rights of Patients
Right to Receive Equal and Fair Medical Care
You can receive high-quality medical care equally and fairly.
Right of Self-determination
After obtaining a sufficient explanation and information in relation to your symptoms and treatment, you can choose or reject that.
Right to a Second Opinion
You can consult with doctors at another medical institution.
Right to Know
You can receive sufficient explanations about your symptoms, diagnosis and treatment.
You can request the disclosure of your own medical records.
Right to Privacy and Personal Information Protection
We will protect your privacy and personal information.
Responsibilities of Patients
Responsibility to Provide Information
Please accurately communicate information relating to your health to the medical professionals.
Responsibility to Cooperate with Treatment
Please understand your own health condition and cooperate with treatment.
If you have any questions about the treatment policy, please do not hesitate to contact us.
Observance of Rules and Prohibition on Troublesome Acts
Please observe the rules of the hospital. Please do not commit acts that inconvenience others (e.g., abusive language, violence, slander or sexual harassment).
Responsibility to Pay Your Bills
Please pay your bills without delay.
Responsibility to Cooperate in Education and Research
Please cooperate as far as possible in education to develop medical professionals and clinical research to provide advanced medical care.
Departments
Internal Medicine
Internal Medicine, Respiratory Medicine, Cardiovascular Medicine, Gastroenterology, Nephrology, Diabetes, Endocrinology, Neurology, Hematology, Psychosomatic Medicine, Psychiatry, Pediatrics, Neonatal Internal Medicine and Pediatrics
Surgery
Surgery, Digestive Surgery, Cardiovascular Surgery, Respiratory Surgery, Neurosurgery, Breast/Endocrine Surgery, Anal Surgery, Orthopedic Surgery, Plastic Surgery and Pediatric Surgery
Other
Anesthesiology, Radiology, Obstetrics, Gynecology, Dermatology, Urology, Ophthalmology, Otorhinolaryngology, Rehabilitation, Clinical Oncology, Pathology, Emergency, Palliative Care and Dentistry
Language Support
We have staff members who can speak English available.
In addition, we have set up multiple interpretation tools (tablets) to support communication during your treatment.
Payment Methods
We accept the following cards in addition to cash (Japanese currency).
You can also use debit cards.
Credit Cards We Accept
VISA, Master, MUFG, DC, UFJ, NICOS, JCB, AMEX, DISCOVER, Diners and UnionPay
Access to Our Hospital
Shinchi-machi, Nagasaki-shi, Nagasaki6-39, 850-8555
TEL:095-822-3251 FAX:095-826-8798
If You Are Coming by Public Transport
15 minutes on foot from Nagasaki Station
1 minute on foot from Medical Center Station on the Nagasaki Electric Tramway
1 minute on foot from Nagasaki Bus Medical Center Stop
Inquiries
We have staff members who can provide English interpretation available.
If you have any questions about our medical services, please feel free to contact us by telephone or e-mail.
TEL:095-822-3251 E-mail:consult@ncho.jp